...to the single best source for the wonderful and inspiring artwork of Earl Norem. Since 1950, Earl Norem has painted hundreds of memorable covers for novels, gaming books, trading cards, and Marvel Comics, bringing a fine-art style to such projeects as a SAVAGE SWORD OF CONAN, SPIDER-MAN, FANTASTIC FOUR, WIZARDS & WARRIORS, PLANET OF THE APES, MARS ATTACKS, TRANSFORMERS, MONSTERS NLEASHED, THE SIX MILLION DOLLAR MAN, and HULK. Over his five-decade career following decorated service in World War II, Norem has produced illustrations for magazines such as READERS DIGEST, FIELD AND STREAT, SKI, REAL WEST and DISCOVER, as well as movie posters for Conforte Graphics, package designs and artworld for Mego Toys, Mattel, and Hasbro, and even two New York Yankee program covers!
With the help of some dedicated fans, here now for the first time ever in one place, you can now see collections of rare and unseen artwork by the legend that is Earl Norem.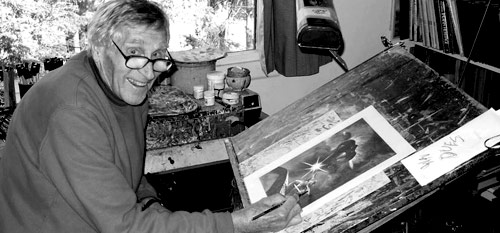 Special thanks to Ray Falcoa, David Levine, Brian Urbano, Rory Block, Seby, Tony Fowler, Lars Johansson and Val Staples for their contributions to this site.
You too can contribute to this website!
If you or any one you know has accesss to a piece of Norem artwork that is not showcased here on earlnorem.com, please email the webmaster: eamon@theextremist.co.uk
for details on how to become a contributor .
This website was designed and is maintained by Eamon O'Donoghue.
This site is purely a fan made site.